BURBEGEL is a liquid biocidal, bactericidal and an virucidal alcohol-cased disinfectant agent (ethanol 70% v/v). Intended for direct external use - disinfection of skin, inert surfaces and alcohol-resistant tools. The product is intended not only for home, but mainly for professional use.
USE BIOCIDE PRODUCTS IN A SAFE WAY. ALWAYS READ PRODUCT LABEL AND INFORMATION ABOUT PRODUCT BEFORE ITS USE.
Effective
Destroys various types of microorganisms
Destroys bacteria and viruses
High ethanol content
Wide spectrum of action
Can also be used below freezing temperatures (up to -30 ° C)
Has a long-lasting effect
Effective even after re-freezing
Fast
Ready for immediate use
Excellent instant effect
Dries quickly without leaving spots
Universal
Suitable for disinfecting surfaces, materials and furniture
Suitable for cleaning hands without soap and water
Suitable for public and industrial spaces
Suitable for public transport (public transport, trains and others)
Disinfection of all surfaces at medical facilities - walls, tiles, waiting areas including seats, windows, doors by spraying undiluted product
Disinfection of surfaces and surfaces at food production - walls, tiles, stainless steel furniture, refrigerators, etc. except for surfaces used for direct contact with food or feed
Disinfection of public spaces and crowded places - handles, elevators, windows, doors - city halls, airports, sports halls
Disinfection of fitness centers - including disinfection of sports equipment and sports machines
Disinfection of saunas and changing rooms
Disinfection of tools and premises - pedicure, manicure, nail salons
Disinfection of areas in kindergartens and schools
Disinfection of storage areas, including shelves
Disinfection of public transport - trains, buses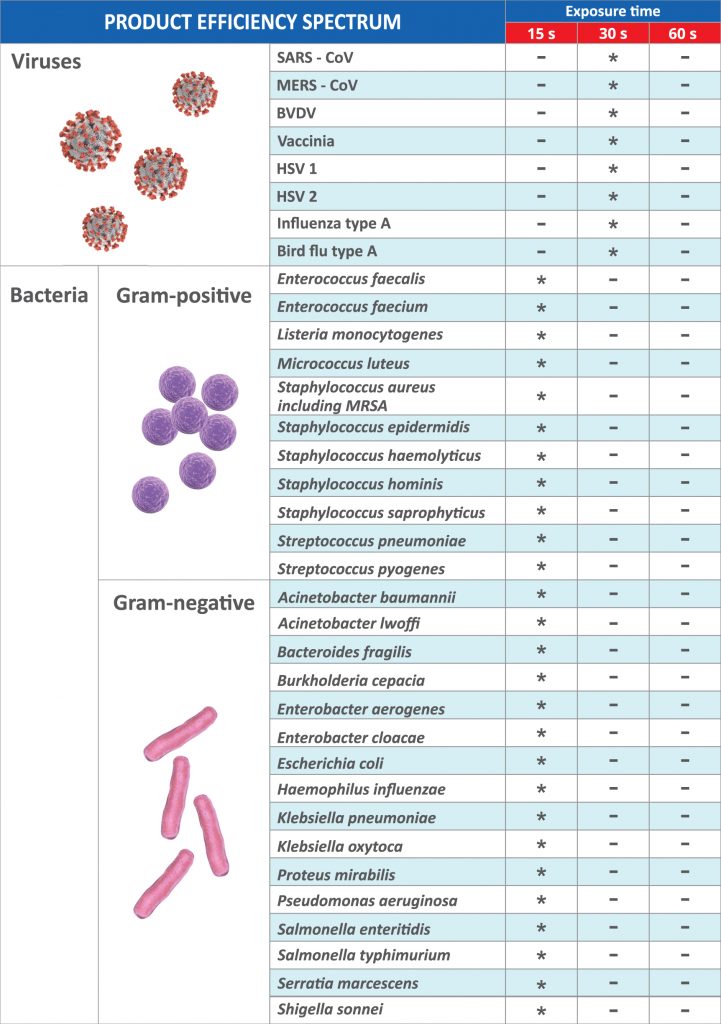 Note: The spectrum of action of the product is compiled on the basis of available scientific information using the active substance ethanol at concentration of 70% v/v.